Akshardham Temple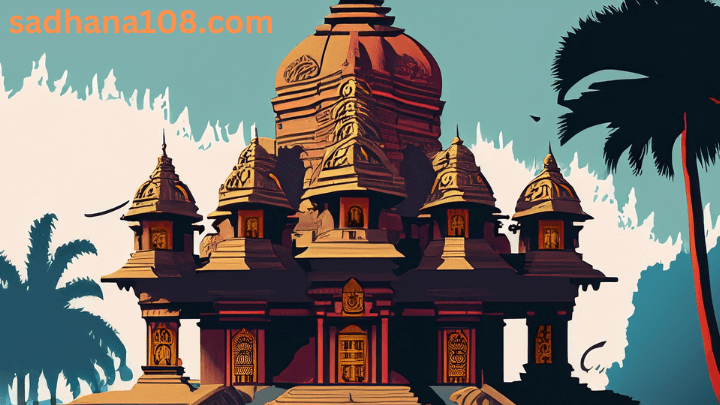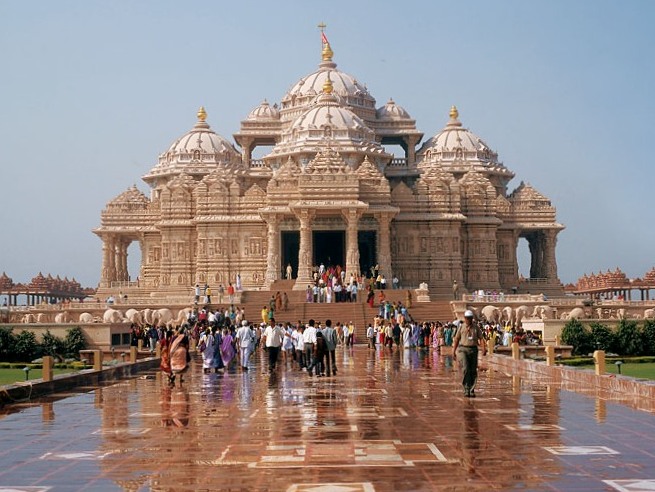 Akshardham or Swaminarayan Akshardham complex is a Hindu mandir, and a spiritual-cultural campus in New Delhi, India. Also referred to as Akshardham Temple or Swaminarayan Akshardham, the complex displays millennia of traditional Hindu and Indian culture, spirituality, and architecture.
The temple, which attracts approximately 70 percent of all tourists who visit Delhi, was officially opened on 6 November 2005 by Dr. A.P.J. Abdul Kalam. It sits near the banks of the Yamuna adjacent to the 2010 Commonwealth Games village in eastern New Delhi. The temple, at the centre of the complex, was built according to the Vastu shastra and Pancharatra shastra.
The complex features an Abhisheka Mandap, Sahaj Anand water show, a thematic garden and three exhibitions namely Sahajanand Darshan (Hall of Values), Neelkanth Darshan (an IMAX film on the early life of Swaminarayan as the teenage yogi, Neelkanth), and Sanskruti Darshan (cultural boat ride). According to Swaminarayan Hinduism, the word Akshardham means the abode of almighty Lord Swaminarayan and believed by followers as a temporal home of God on earth.
The main attraction of the Swaminarayan Akshardham complex is the Akshardham Mandir. It rises 141-foot (43 m) high, spans 316-foot (96 m) wide, and extends 356-foot (109 m) long. It is intricately carved with flora, fauna, dancers, musicians, and deities.
Designed in accordance with the standards of Maharishi Vastu Architecture, it features a blend of architectural styles across India. It is entirely constructed from Rajasthani pink sandstone and Italian Carrara marble. Based on traditional Hindu architectural guidelines (Shilpa shastras) on maximum temple life span, it makes no use of ferrous metal. Thus, it has no support from steel or concrete.
The Akshardham Temple also consists of 234 ornately carved pillars, nine domes, and 20,000 murtis of sadhus, devotees, and acharyas. The mandir also features the Gajendra Pith at its base, a plinth paying tribute to the elephant for its importance in Hindu culture and India's history. It contains 148 life sized elephants in total weighing a total of 3000 tons.
Under the Akshardham Temple's central dome lies the 11-foot (3.4m) high murti of Swaminarayan seated in abhayamudra to whom the temple is dedicated. Swaminarayan is surrounded by images of the faith's lineage of Gurus depicted either in a devotional posture or in a posture of service. Each murti is made of paanch dhaatu or five metals in accordance to Hindu tradition. The temple also houses the murtis of Sita Ram, Radha Krishna, Shiv Parvati, and Lakshmi Narayan.
---