Dagadusheth Halwai Ganapati Temple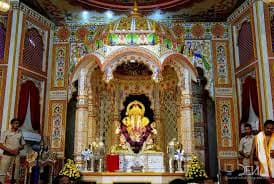 Shreemant Dagdusheth Halwai Ganapati Temple  in Pune is dedicated to the Hindu God Ganesh. The temple is popular in Maharashtra and is visited by thousands of pilgrims every year. Devotees of the temple include celebrities and Chief Ministers of Maharashtra who visit during the annual ten-day Ganeshotsav festival. The main Ganesh idol is insured for sum of ₹10 million .
Dagadusheth Halwai (Dagadusheth Gadve) was Lingayat trader and Sweet maker (Halwai in Marathi). He originally came from Karnataka and settled in Pune. After he gained fame as a Halwai, that became his surname. His original Halwai shop still exists under the name Kaka Halwai near Datta Mandir in Pune.
Mr. Dagdusheth Halwai was a successful sweetmeat seller and a rich businessman. In late 1800s, he lost his son in a plague epidemic. This caused Dagdusheth and his wife to go into deep depression. To heal themselves, their Guru, Shri Madhavnath Maharaj recommended building a Ganesh temple. This was completed in 1893.
Lokmanya Tilak, the Indian Nationalist leader and a contemporary of Dagdusheth, was a close friend of him. Tilak saw his dedication and also the construction of the temple and it was here that the idea of celebrating public Ganesh festival struck him. It proved to be an epoch making event in Indian history.
The Dagdusheth Halwai Ganapati Temple is a beautiful construction and boasts a rich history of over 100 years. Jay and Vijay, the two sentinels made of marble catch the eye of all at the outset. The construction is so simple that all the proceedings in the temple along with the beautiful Ganesh idol can be seen even from outside. The Ganesh idol is 7.5 feet tall and 4 feet wide. It is adorned with nearly 8 kilos of gold. The devotees of Lord Ganesh offer Him gold and money and with every offering the Lord gets richer and richer. Moreover, heaps of coconuts offered to the deity are yet another feature of the temple. Daily pooja, abhisheka and the arti of Lord Ganesh are worth attending. The lighting of the temple during the Ganesh festival is marvelous. Shrimant Dagdusheth Ganpati Trust looks into the maintenance of the temple. Various cultural activities like music concerts, bhajans, and Atharvasheersh recitation are organized by the trust at the Dagdusheth Halwai Ganapati Temple.
---