Mahalakshmi Temple, Kolhapur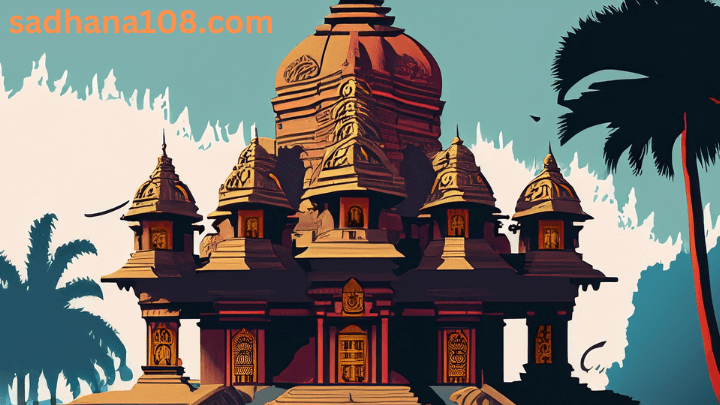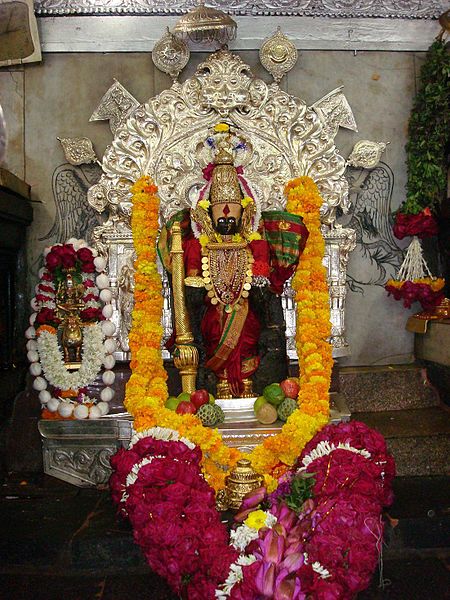 The Shri Mahalakshmi  Temple of Kolhapur in Maharashtra, India, is one of the Shakti Peethas listed in various puranas of Hinduism. According to these writings, a Shakti Peetha is a place associated with Shakti, the goddess of power. The Kolhapur Shakti Peetha is of special religious significance being one of the six places where it is believed that one can either obtain salvation from desires or have them fulfilled. The temple takes its name from AmbaBai, the consort of Shiva, and it is believed that the divine couple reside in the area.
The Shri Mahalakshmi  Temple belongs architecturally to the Chalukya empire and was first built in the 7th century. Mounted on a stone platform, the image of the four armed and crowned goddess is made of gemstone and weighs about 40 kilograms. The image of Mahalakshmi carved in black stone is 3 feet in height. The Shri Yantra is carved on one of the walls in the temple. A stone lion, the vahana of the goddess, stands behind the statue. The crown contains an image of the Sheshnag — the serpent of Vishnu. In Her four hands, the deity of Mahalakshmi holds objects of symbolic value.
The lower right hand holds a mhalunga (a citrus fruit), in the upper right, a large mace (kaumodaki) with its head touching the ground, in the upper left a shield (khetaka), and in the lower left, a bowl (panpatra). Unlike most Hindu sacred images, which face north or east, the image of this deity looks west (Pashchim). There is a small open window on the western wall, through which the light of the setting sun falls on the face of the image for three days around the 21st of each March and September. There are a number of other shrines in the courtyard to the Navagrahas, Surya, Mahishasuramardini, Vitthal-Rakhmai, Shiva, Vishnu, Tulja Bhavani and others. Some of these images date back to the 11th century, while some are of recent origin. Also located in the courtyard is the temple tank Manikarnika Kund, on whose bank is a shrine to Visweshwar Mahadev.
Five worship services are offered each day in  Shri Mahalakshmi  Temple. The first one is at 5 am, and it involves the waking of the deity with a Kakada - torch, to the accompaniment of hymns. The second worship service at 8 am involves the offering of the Shodashopachara pooja consisting of 16 elements. The afternoon and evening services and the Shejaarati pooja constitute the three other services. A festival image of the deity is taken out in procession around the temple courtyard each Friday, and on full moon days.
---