Saptashrungi Devi Temple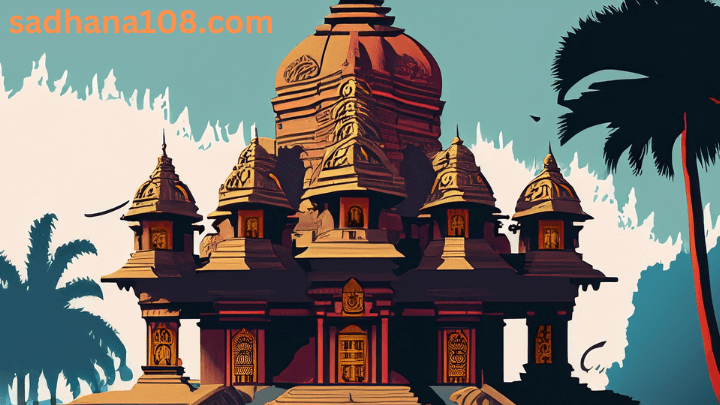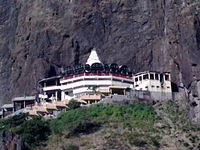 Saptashrungi Devi Temple is a site of Hindu pilgrimage situated 60 kilometres (37 mi) from Nashik in west Indian state of Maharashtra in India. According to Hindu traditions, the goddess Saptashrungi Nivasini dwells within the seven mountain peaks. (Sapta means seven and shrung means peaks.) It is located in Nanduri, Kalwan taluka, a small village near Nashik in India. Devotees visit this place in large numbers every day. The temple is also known popularly as one of the "three and half Shakti Peethas" of Maharashtra. The temple is also one among the 51 Shakti Peethas located on the Indian subcontinent and is a location where one of Sati's (first wife of Lord Shiva) limbs, her right arm is reported to have fallen.its half shaktipeeth among three and half shaktipeeth of Maharashtra.
Saptashrungi Devi Temple is two storied shrine with the Devi enshrined in the top floor. The Devi image is carved in a cave at the base of a sheer scarp rock face.
The Devi is said to be swayambhu (self-manifested) on a rock on the sheer face of a mountain. She is surrounded by seven (sapta in Sanskrit) peaks (shrungain Sanskrit), hence the name: Sapta Shrungi Mata (mother of the seven peaks).
The iconography of the Saptashrungi goddess is that of the Mahalakshmi of the Devi Mahatmya. The goddess is eighteen-armed (ashta-dasha bhuja), inaccurately sometimes described as ashta-bhuja (eight-armed). The image is about 8 feet (2.4 m) tall and appears saffron in colour, as it is covered with sindoor. As described in the Devi-Mahatmya legend, the goddess was gifted various weapons to slay Mahishasura.
She holds these in her arms: the trishula (trident) of Shiva, the sudarshana chakra of Vishnu, the shankha (conch) of Varuna, the flames of the fire-god Agni, the bow and arrow of Vayu, the vajra (thunderbolt) and ghanta (bell) of Indra, Danda (cudgel) of Yama, akshamala (string of beads) of Daksha, kamandalu (water-pot) of Brahma, the rays of the sun-god Surya, the sword and shield of Kali, the parashu (axe) of Vishvakarma, the wine-cup of Kubera, gada (mace), lotus, lance and pasha (noose).
The Devi is decorated with high crown (like a papal tiara), and a gold nose-ring and gold necklaces which are the ornaments used every day. Her attire is in the form of a robe with a blouse, which are changed with new dresses every day. Before she is dressed for worship she is religiously given a formal abhisheka or bath; warm water is reported to be used for two days in a week. The courtyard in front of the Saptashrungi Devi Temple has a trident or Trishula decorated with bells and lamps.
There are other precious ornaments of the goddess which are normally kept at Vani in safe custody but are used to decorate the deity on special festival days. The Devi's image is painted bright red with ochre called sindoor, which is considered auspicious in this region; however, the eyes are not touched by the colour but are made of white porcelain, which shine very brightly
---