Guruvayur Temple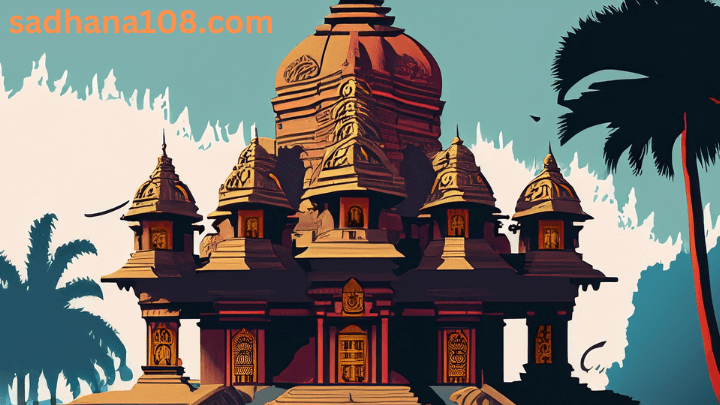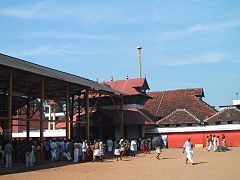 Guruvayur Temple is a Hindus temple dedicated to the Hindu god Guruvayurappan (a four-armed affiliation of the Hindus god Vishnu), located in the town of Guruvayur in Kerala, India. It is one of the most important places of worship for Hindus of Kerala and is often referred to as Bhuloka Vaikunta which translates to the "Holy Abode of Vishnu on Earth".
The presiding deity of the Guruvayur Temple is Vishnu, worshipped in the form of Guruvayurappan. The central icon is a four-armed standing Krishna carrying the conch Panchajanya, the discus Sudarshana Chakra, the mace Kaumodaki and a lotus with a Holy basil garland. This image represents the majestic form of Vishnu as revealed to Krishna's parents Vasudeva and Devaki around the time of Krishna's birth; hence Guruvayur is also known as "Dwarka of South India". He is currently worshipped according to routines laid down by Adi Shankara and later written formally in the Tantric way, the inter-religious spiritual movement that arose in medieval India, by Cennas Narayanan Nambudiri (born in 1427). The Cennas Nambudiris are the hereditary tantris (high priest) of the Guruvayur Temple.
The temple (puja) routines are strictly followed. The tantri is available full-time at the Temple to ensure this. The Melsanti (Chief Priest) enters the sanctum sanctorum in the morning and does not drink anything up to the completion of "noon worships" at 12:30 PM.
According to legends, the deity worshipped here is more than 5000 years old.In the 14th century, "Kokasandesam" (a Tamil literary work), references to a place called Kuruvayur are made. As early as the 16th century (fifty years after Narayaniyam was composed) many references to Kuruvayur are seen. In ancient Dravidian languages, "kuruvai" means "sea", hence the village on the Malabar Coast may be called Kuruvayur. The earliest temple records date back to the 17th century. The earliest mention of the many important Vishnu temples of Kerala are found in the songs of Alwars, Tamil saints, whose time-line is not exactly fixed.
Mamankam was a very famous local event at Tirunavaya, on the bank of Bharatappuzha. The battles between the Kozhikode under Samoothiris and Valluvanad popularised Guruvayur Temple. Due to the prolonged battles, people across the riverbank started preferring Guruvayur. Even the Samoothiri of Kozhikode become a devotee and thus his subjects followed him. The central shrine that is seen today is said to have been rebuilt in 1638 AD. "Viswabali" was performed later to propitiate all the spirits, good and bad. By the end of the 16th century Guruvayur Temple had become the most popular pilgrimage centre in Kerala.
---