Akshardham Temple, Ahemdabad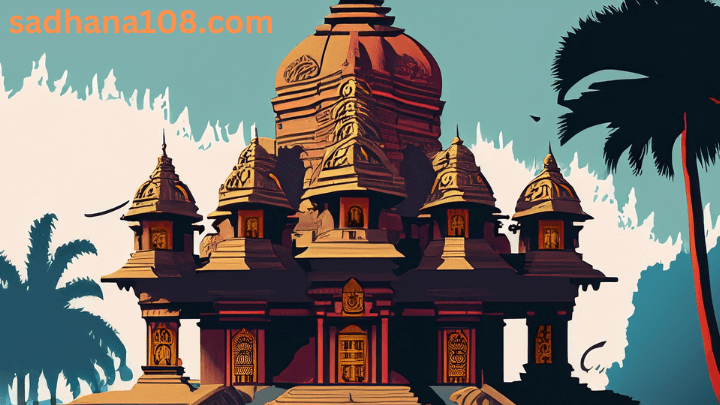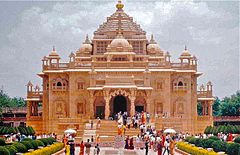 Akshardham Temple, Ahemdabad in Gandhinagar, Gujarat is a large Hindu temple complex inspired by Pramukh Swami, the former spiritual head of BAPS Swaminarayan Sanstha. Located in the capital of Gujarat, the complex was built over 13 years and is a tribute to Swaminarayan and his life and teachings.At the center of the 23-acre complex is the Akshardham mandir, which is built from 6,000 metric tons of pink sandstone from Rajasthan.The complex's name refers to the divine abode of Swaminarayan in the BAPS philosophy; followers of Swaminarayan believe that the jiva or soul goes to Akshardham after attaining moksha, or liberation. BAPS followers worship Swaminarayan as God almighty.
The focal point of the is the Akshardham Temple, Ahemdabad which measures 108 feet high, 131 feet wide and 240 feet long and features 97 carved pillars, 17 domes, 8 balconies, 220 stone beams and 264 sculpted figures.In accordance with Vedic architectural principles, no steel or iron has been used anywhere in the mandir. 20 foot-long stone beams, each weighing five tons, have been used as load-bearing support throughout the mandir. The mandir's central chamber houses a seven-foot-tall, gold-leafed murti, or sacred image, of Swaminarayan, who is worshipped by followers as God. The murti rests upon a three-foot pedestal and weighs 1.2 tons.
It is flanked by the murtis of the ideal devotee, Aksharbrahma Gunatitanand Swami and Aksharmukta Goplanand Swami, both in postures of loving devotion toward Swaminarayan. In each of the four corners of the mandir sits a life-sized marble murti of the lineages of gurus or successors of Swaminarayan revered by BAPS. The first floor of the Akshardham Temple, Ahemdabad is known as the Vibhuti Mandapam and features lotus-shaped displays describing the spiritual character of Swaminarayan, while the basement of the mandir, called the Prasadi Mandapam, houses a historical display of various sacred relics from Swaminarayan's life.
The complex's five exhibition halls use audio-visual presentations and life-sized dioramas to explore various themes in Hinduism. The Neelkanth and Sahajanand Halls depict Swaminarayan's life, work and teachings. The Mystic India Hall features an IMAX theater which screens a 40-minute film portraying the country-spanning pilgrimage Swaminarayan had embarked on at the age of eleven, when he assumed the name Neelkanth Varni.
---