Chhinnamasta Temple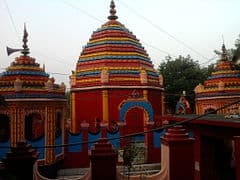 Chhinnamasta Temple dedicated to Goddess Chinnamasta is a hindu pilgrimage centre and located in Rajrappa, in Ramgarh district of Jharkhand. The place attracts devotees from all parts of Bihar, Jharkhand and West Bengal.
The main attraction of the Chhinnamasta temple is the headless deity of Goddess Chinnamasta which stands on the body of Kamdeo and Rati in the lotus bed. The Chhinnamasta temple is popular for its Tantrik style of architectural design. Apart from the main temple, there are ten temples of various gods and goddesses such as the Surya (Sun God), Hanuman and Lord Shiva.
Chhinnamasta  often spelled Chinnamasta and also called Chhinnamastika and Prachanda Chandika, is one of the Mahavidyas, ten Tantric goddesses and a ferocious aspect of Devi, the Hindu Divine Mother. Chhinnamasta can be easily identified by her fearsome iconography. The self-decapitated goddess holds her own severed head in one hand, a scimitar in another. Three jets of blood spurt out of her bleeding neck and are drunk by her severed head and two attendants. Chhinnamasta is usually depicted standing on a copulating couple. Chhinnamasta temple is located at Rajrappa, 28 km away from Ramgarh Cantonment along NH-23 in the Ramgarh district of the State of Jharkhand, India. It is situated on a hillock at the confluence of the Damodar and Bhera (Bhairavi River) rivers near the Rajrappa falls.
This location has a special significance.It is at the union of Bhairavi nadi(female) coming from top, meeting Damodar nada (male) signifying vipareeta rati ( opposite coppulation) pose as described in Devi Chhinnamasta's dhyana (vipareeta rataturam). Here Bhairavi is active shakti and Damodar is the male passive member of rati action. Damodar is very calm and Bhairavi is the active member.
---