Srikalahasteeswara Temple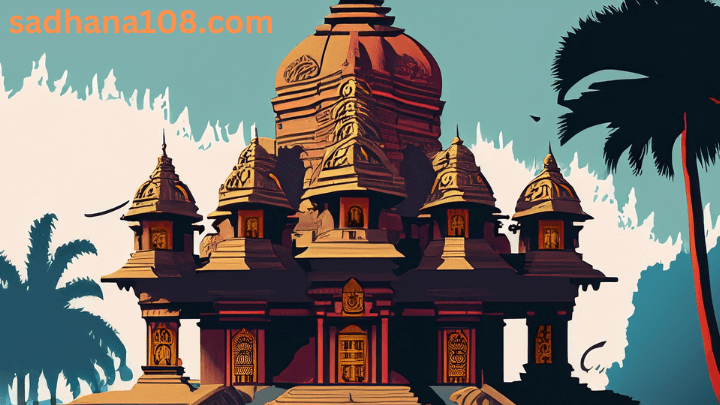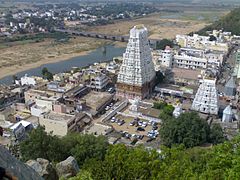 Srikalahasteeswara Temple is located in the town of Srikalahasti, in the state of Andhra Pradesh, India. It is one of the most famous Shiva temples in South India, and is said to be the site where Kannappa was ready to offer both his eyes to cover blood flowing from the Siva linga before the Lord Siva stopped him and granted him mukti.
Srikalahasteeswara Temple, situated 36 km away from Tirupati is famous for its Vayu linga, one of the Panchabhoota Sthalams, representing wind. The temple is also regarded as Rahu-Ketu kshetra and Dakshina Kasi. The inner temple was constructed around 5th century and the outer temple was constructed in the 12th century by the Chola kings and the Vijayanagara kings. Lord Shiva in his aspect as Vayu is worshiped as Kalahasteeswara.
During the early days of creation, Lord Vayu performed penance for thousands of years to "Karpoora lingam" (Karpooram means camphor). Pleased with his penance, Lord Shiva manifested before him and said, " O Vayu Deva! Though you are dynamic in nature, you stayed here without movement and did penance for me. I'm pleased with your devotion. I shall grant you three boons". Lord Vayu said, "Swami! I want to be present everywhere in this world. I want to be an integral part of every Jiva who is none other than the manifestation of Paramatma. I want to name this Karpoora Linga, which represents you, after me. Samba Siva said," Your are qualified for these three boons. As per your wish, you will be spread throughout this world. Without you there will be no life. This linga of mine will forever be known all over through your name, and all Suras, Asuras, Garuda, Gaandharvas, Kinneras, kimpurushas, Siddhas, Saadhvis, humans and others will worship this Lingam". Lord Shiva disappeared after granting these boons. Thereafter, this Karpoora Vayu Lingam is worshipped by all Lokas (worlds).
There are several other legends connected to the glory of the temple. Prominent among them is of Parvati who was cursed by Lord Shiva to discard her heavenly body and assume the human form. To get rid of the above curse Parvati did a long penance here. Pleased with her deep devotion Lord Shiva again recreated her body – a hundred times better than her previous heavenly body and initiated various mantras including the Panchakshari. Consequent to this, Parvati gained fame and came to be known as Shiva-Gnanam Gnana Prasunamba or Gnana Prasunambika Devi.
Cursed to become a ghost, Ghanakala prayed at Srikalahasteeswara Temple for 15 years and after chanting the Bhairava Mantra many times Lord Shiva restored her original form. Mayura, Chandra and Devendra were also freed from their curses after taking bath in the river Swarnamukhi and praying at Srikalahasti. To Bhakta Markandeya, Lord Shiva appeared in Srikalahasti and preached that a Guru alone could make esoteric teachings and, therefore he is Brahma, Vishnu and Maheswara.
---