Naga Sai Mandir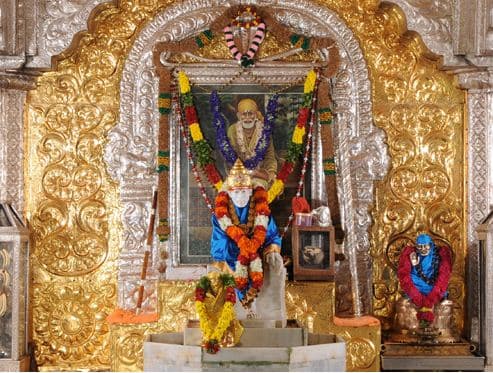 Sri Naga Sai Mandir is a Hindu temple dedicated to the Indian Spiritual Master Shirdi Sai Baba in Coimbatore in the Indian state of Tamil Nadu.
In 1939, Sn. H.H.B.V. Narasimha Swamiji, sri A.V. K. Chain, Sri. H. Varadaraja Ayyah, along with his brother Sri. C.V. Rajan started the Sai movement in Coimbatore.
Sri Naga Sai Mandir was established in 1942. The Institution named for Sri Sai Baba was put up darsana of the Devotees. Swamiji entrusted the center to the care of Sri. A.V. K. Chain. In 1942, the late Sn. C.Varadaraja Ayyah donated around one acre of land on Mettupalayam Road, and Thatched Shed was evicted from the donated land meant to house the Sri Sai Baba Mission- later named Sri Sai Baba Madam. The place was opened for worship to everyone regardless of class, creed, caste or religion. The Sai Baba Madam was the meeting ground of Sai Devotees in and around Coimbatore. Sai Bhajans were held regularly on Sundays and Thursdays.
A marble statue of Shirdi Sai Baba was installed by Sathya Sai Baba (the Indian guru thought to have been the reincarnation of Shirdi Sai Baba himself) on February 26, 1961. This was the first time that Sathya Sai Baba formally installed an idol of Shirdi Sai Baba for daily worship.
The temple is called Naga Sai Mandir after a story told by Shirdi Sai Baba's followers of a snake, Nãga, that rose from the flowers in the garden to listen to Shirdi Sai when he was giving darshan to devotees before disappearing.
---