Sharda Shaktipeeth Mandir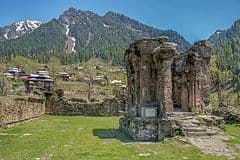 Sharda Shaktipeeth Mandir is an abandoned Hindu temple located in the village of Sharda, along the Neelam River in Azad Kashmir. It is situated near the militarily-sensitive Line of Control which divides Pakistani administered Kashmir from Indian administered Kashmir.
Sharda Shaktipeeth Mandir was a major centre of learning, and is regarded as one of 18 Maha Shakti Peethas, or a "Grand Shakti Peethas" – which are highly-revered temples throughout South Asia that commemorate the location of fallen body parts of the Hindu deity Sati. Sharada Peeth is traditionally believed to be the site where the right hand of Sati is said to have fallen after being carried by her husband Shiva.
The Sharda Shaktipeeth Mandir is set in a lush and verdant valley. The temple is located in the remote village of Sharda, in Neelam Valley, at a distance of 60 miles from Baramulla and 40 miles from Muzaffarabad, and 70 miles from Srinagar. It lies 16 miles to the northwest of the Line of Control in a militarily sensitive area.The temple is at a height of 11000 feet above the sea level.The length of the temple is 142 feet and width is 94.6 feet. The outer walls of the temple are 6 ft. wide and 11 ft long. And there are arches with 8 ft. height.
---